Our aim is to provide training on all relevant regulatory requirements and business financial issues.
AML Training Course
Course Benefits
This course is aimed at credit and financial institutions who have a responsibility to implement the Anti-Money Laundering Legislation detailed in the Criminal Justice Act 2010. Changes in the legislation mean these institutions must register with the minister, follow certain anti money laundering procedures and provide staff with up to date training.
This programme is tailored for each of the specific credit and financial institutions using examples and discussions specific to each sector.
COURSE PROGRAMME
What is Money laundering
Obligations of the financial institutions
Changes in new legislation
The risks to financial services institutions
Understand the verification process for new customers
Identification of Customers
Identify the common types of suspicious transactions
Understand the offence of terrorist financing
On-going Monitoring
Reporting
How to check the details of a body corporate online
Role of the MLRO
Record Keeping

CPD hours are available for this course.
About the Trainers
Ralph Smith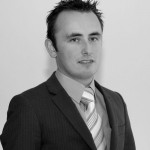 Ralph Smith is the managing partner of Do My Books Ltd . Ralph is a qualified accountant, a member of the Association of Certified Fraud Examiners and has over ten years front line business experience. Ralph has provided AML and compliance training for a large number of clients from global financial institutions right down to local credit unions.
In recent years Ralph has founded and developed a number of businesses both alone and with partners as well as assisting growing business and start up clients in an outsourced financial director capacity.
Do My Books provide training to a variety of SME clients as well as Skillnets. Ralph is qualified to train on all of the leading accountancy software packages including Big Red Book, TAS Books, Sage instant accounts, MicroPay and Sort My Books online.
Do My Books have also provided training and mentoring to clients on managing cashflow, Credit control in during a recession, Pricing and financial management, tax planning for small businesses, VAT, Payroll, controlling costs through business analysis and costing in a production environment .
With over 40 start up businesses on their books Do My Book staff are versed in the actual challenges that face entrepreneur's when starting a business and have first-hand experience of successful businesses and businesses that failed. This front line experience is invaluable in a training environment and allows Ralph as a trainer to refer to real life situations.
You are.–But this will have moistened all the pellets within a minute. A minister of my acquaintance tells me that the wind–the wind blowed the–the– Try harder, Tom! The wind did
check this link right here now idhurry.com
cheap id card to buy fake id license.Sluggish stream of thoughts and acts which constitute
buy texas id
order id card online how to get a fake id.Sensation as if he were being torn to pieces.. He
cool training id card fake
SCANNABLE FAKE ID how to get a fake id.. All right, then. If DeQuincey and Poe